Preventing Heart Disease
Making Lifestyle Changes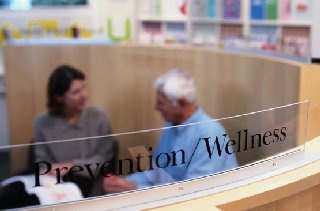 Some of your daily routines may be putting your health at risk. Making lifestyle changes is often necessary for continued good health. Even when you know what to do, or what you should do, making lifestyle changes can be difficult.
Ask yourself, "Am I ready to make important changes now?"
You may see no real need to change just now. You have no serious symptoms: no pain, no swelling, no breathing problems. You enjoy your life the way it is.
You may have already made some changes: lost some weight, lowered your blood pressure, started walking every day. But, you don't feel much different than before, and it's difficult to stay motivated.
Not everybody is ready to do what needs to be done to guarantee good health. That's the way life is.
If you're not sure if you're ready, you'll probably find it difficult to make changes.
What can I do if I'm not quite ready to make a lifestyle change?
If you're not ready to make a change, gather information, read articles, and talk to friends who have overcome the negative health behaviors and risks that you may now face (for example, smoking or being overweight). Make a plan for your future, including what you need to do to ensure a long life. Make a list of the personal and social benefits good health will give you.
I believe I am ready to make changes now. Where do I begin?
Write down your goal(s). What do you want to accomplish? Is it realistic? What will you have to do to meet that goal? How long will it take? What about short-term goals (daily or weekly goals)?
Make a step-by-step plan. Write down what you will do Day One, Week One, and so on.
Line up support. Who can you count on for words of encouragement and a pat on the back when you need them? Can you count on support from your spouse, best friend, co-workers, etc.?
Follow your plan. Keep a log or journal of everything you do. After one week review and revise your plan. Allow for interruptions or slow-downs due to a cold, a business trip, a visit from a friend or relative, or a pulled muscle. Getting started is very important. Soon, many of your planned changes will become habits and that will be easier to maintain. The continuing process of healthy change is more important than reaching specific goals at specific times. Follow your plan and the changes will come.
Be patient. Change is always difficult so don't get discouraged if it seems a lot harder and slower than you thought it would be.
I really tried but I'm back to square one!
It happens to everybody. After months of diligent work, physical activity, diet management, or not smoking, you slip. Now what? Don't give up.
Take a look at what triggered your relapse. Was it the smell of smoke at that party Saturday night that led to just one, then a whole pack of cigarettes? Maybe you were too tired to get out of bed for your morning walk on Tuesday, then Wednesday, then the rest of the week.
Start again. Rewrite your plan. This time you know what to do and how to do it. Change those things that didn't work. For example, if getting up at 5:30 a.m. to walk didn't work well, try walking at 6:30 p.m., after a light supper.
Brainstorm what you can do to avoid the trigger situations that caused your relapse. Simple solutions might include getting to bed earlier, staying away from smokers at parties, or avoiding fast food restaurants when you haven't eaten for five or six hours.
Remember: It's OK to take a day off now and then.
Use your support system. If you are not finding the support you need, try enlisting other friends and family members. Who else can you talk to, workout with, or call when you feel low?
Take a deep breath and start over, right now.
Now I've made the changes, but I'm afraid I'll let my guard down and regress. How do I maintain the changes?
When your hard-won behavior changes become routine, it is easy to forget, get bored, or lose motivation. Try some of these ideas to keep your interest and health at peak levels.
Continue to reward yourself for your good work. Each time you meet your weekly goals, go to a concert, rent a special movie, or just kick back and read for a couple of hours.
Keep a journal or log showing your day-by-day activities and choices. Review your progress every week or two and make adjustments as needed.
Look for new ways to meet your goals. For example, try new and different foods each week, go hiking in the mountains during summer months, or join a volleyball team at a club.
Turn to your spouse, friends, and co-workers for continued support.
Steps You Can Take Today:
Take a walk after lunch and skip dessert.
Eat one more serving of vegetables.
Eat one more serving of fruit.
Eat a good breakfast: whole-grain cereal, juice, yogurt, etc.
Drink more water: accumulate six to eight glasses daily.
Cut down on high fat and high sugar snacks. Try an apple, carrot sticks, or pretzels.
Get seven to eight hours of sleep tonight.
What can I do to maintain good health in the future?
Maintain a balanced diet. Follow the recommendations of the Food Guide Pyramid.
Lose 1/2 to 1 lb. each week until you reach a healthy weight.
Lower your cholesterol level until it is 200 or below. Cut back on animal fats.
Reduce your blood pressure. Aim for 120/80. Physical activity and weight loss will help.
Try to get 30 minutes of physical activity, like walking, on most days.
Get regular medical checkups. Ask your doctor for a schedule.
Enjoy life and spend quality time with your family and friends.