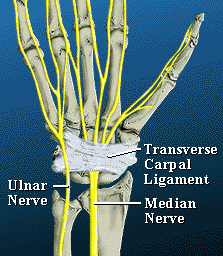 The Median and Ulnar nerves are the major nerves of the hand, running the length of the arm to transmit electrical impulses to and from the brain to create movement and sensation.

One common disorder of the hand is Carpal Tunnel Syndrome.

Carpal Tunnel Syndrome (CTS) is a condition brought on by the compression of the median nerve by the transverse carpal ligament. This usually results in symptoms of numbness, tingling, and pain in the arm, hand, and fingers.